Discover the good life with premium cuisines, classic vintages, luxury products and extravagant indulgences in savour. Anticipate a galore of Celebrity Chef interviews, fine dining experiences and luxury product features such as watches, jewellery and cars.
Mario Batali

Gregarious chef Mario Batali talks a mile a minute and has a hundred ideas boiling in the pot, but on the plate, he believes in keeping things simple. He says, "Simple food is more interesting to me than complicated stuff. Simplicity, despite its challenges, is most understated. Fundamentally, the greatest challenge with the chefs I work with is getting them to understand that less is more."
It is easy to assume that he is as carefree and laid-back as he appears to be on television, but in real life, he is brisk and business-like, ever ready to tackle whatever is at hand so he can move on to the next.
He manages to juggle running his restaurants alongside many other engagements. These include hosting television programmes like ABC's The Chew as well as writing cookbooks—he currently has 11 under his belt, including the most recently published Mario Batali: BIG American Cookbook: 250 Favorite Recipes from Across the USA. In it, he scoured the country for classic American recipes like San Diego for its fish tacos and Boston cream pie, which he then interprets with the same passion and flair that he is known for.
But food pursuits aside, the cause and issue closest to this philanthropist's heart is one that's focused on hunger relief and children's disease research. In 2008, he established the Mario Batali Foundation to ensure that children are "well read, well fed and well cared for".
The foundation promotes plans that provide quality educational opportunities for children, supports nutrition education programmes and provides funding for paediatric disease research. He has also been affirmed with countless accolades including the prestigious James Beard Foundation's "Best Chef: New York City" award in 2002.
This season, the chef-owner of Osteria Mozza in Marina Bay Sands brings the Italian regional cuisines of Emiglia Romania, Friuli and Tuscany to his restaurant. For reservations, visit marinabaysands/osteria or Tel: 6688 8522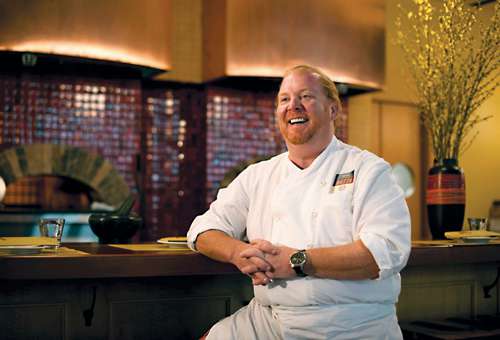 3 Reasons to Visit CUT

With a name like CUT, you know you'll get the best quality of meats here. The restaurant's Executive chef Joshua Brown offers three reasons why any visitor to Marina Bay Sands shouldn't miss a dining experience here.
1) The rarest, finest cuts
To set itself apart from the competition, chef Joshua makes it a point to offer customers premium options that are rarely found in most steakhouses. For example, he brought in the Longhorn beef to CUT late last year and will soon be introducing the Scottish Highland beef. "I've been sourcing different varieties of cattle that people would normally have to travel to specific places to try. The Longhorn and Scottish Highland varieties have a little more 'chew' to them and might come across as a little gamey. These types of beef are for the true connoisseurs."
2) Simple flavours that stand out
"I prefer food to not be overly intricate. Just like how cooking a steak requires little additives or complex techniques, I prefer to let the freshness of the ingredient take the spotlight in cooking. We don't do anything overly special at CUT. We just source the best product we can get and we do the best we can with it."
3) An elegant, Michelin-star experience
From its décor to it service and the types of meat served, a dining experience at CUT is a culinary experienced best described as a harmony between kitchen, chef and guest. "Our Michelin-star win is also down to the team at CUT that really cares about putting out a great product. You can have the best product and the best chef in the world, but if just one person in the kitchen doesn't care about what he's doing, it's going to show."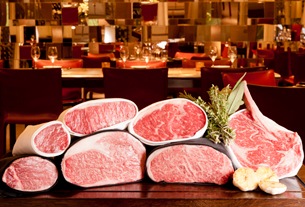 Social Hour

Every Tuesday from 6 to 9 pm, signature cocktails at Marina Bay Sands' dining establishments are served at a 50 per cent discount. Sip your way through the Ramos Gin Fizz cocktails at Bread Street Kitchen to the Love You Long Time cocktails at Spago. Social Hour at Marina Bay Sands is on at all participating venues. Visit marinabaysands.com/social hour for details.