每月的第三个周四 | 晚上 7:00 至 10:00
每月的第三个周四晚,艺术科学博物馆开放至晚上 10:00,提供免费表演、夜间展览参观以及展览门票买一送一特别优惠(晚上 7:00 至 10:00)。*
摆脱一周内的低迷阴郁,体验整个夜晚的精彩活动。在常规开放时间之外,发现博物馆的另一面:探索和实验是夜间的必备项目;艺术合作与发现成为博物馆空间里的重头戏;挑战、碰撞和融合学科界限。
*受条款和条件所限。
近期活动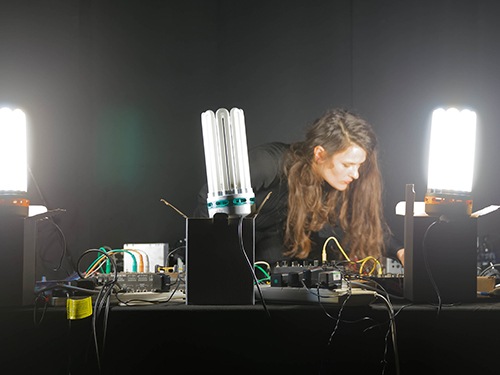 Ewa Justka
16 August 2018, Thursday | 8pm
Free Admission | Venue: Expression Gallery, Level 4

Ewa Justka is a Polish electronic noise artist, instruments builder and DIY electronics teacher based in London. Justka's main field of research is based on the exploration of materiality of objects, vibrant, ontological systems and an investigation of modes of quasi-direct perception through noise performance actions, interactive installation, DIY electronics, hardware hacking, plant-molesting, breaking, deconstructing and collaborating.
Ewa Justka is an acid-technoise artist, pedagogue, and autodidact musical instrument maker based in London. Her work explores the relationships between macro and micro environments, sound, and the body. She has performed and led workshops at events and venues such as Cafe Oto, Loop Festival, and Sonic Acts.
This ArtScience Late performance is a parallel programme of ArtScience on Screen: Seeing Systems, presented in collaboration with videoclub.

videoclub is an artists' moving image platform showing artists' work across the UK and internationally established in 2005 by Laura Mousavi-Zadeh, Ben Rivers and Jamie Wyld. We support artists through curated programmes, engaging the public through screenings, exhibitions, talks, residencies and commissions.
*Free on a first-come-first-served basis. Limited capacity
Please refer to our Facebook event page for more details.