Experience the wonder of Southeast Asia's largest light and water show
Immerse yourself in Wonder Full: an amazing convergence of light, music and sound, where the universal tale of the journey of life is told by masterfully combining both electric lights and laser effects. Come by and witness a stunning 13-minute showpiece of visual effects by the waterfront, with the stunning cityscape of Singapore lit up in the backdrop.
Since its inception in February 2011, Wonder Full has been extremely popular with both locals as well as tourists, attracting over an estimated 4.2 million visitors from all around the globe and providing a spectacular source of entertainment to visitors. The show continues to play to over 30,000 spectators per week, driving huge footfall to the Marina Bay Sands estate and bayfront area.
LOCATION
Event Plaza at the Promenade
ADMISSION
Free and open to the public
SHOWTIMES
Sunday - Thursday: 8:00pm, 9:30pm
Friday & Saturday: 8:00pm, 9:30pm, 11:00pm
DURATION
15 minutes
CONTACT
+65 6688 8868
Wonder Full is a unique, beautiful story about the creation of Life – told through the use of water, fire, light, lasers and other high impact Mega Media elements. This spectacular show explores humanity and the beauty of the human experience through original footage of the people of Singapore, taking you on an emotional and heartfelt journey.
It also features motion pictures, music produced in Singapore with heavy local influences, an original sound score and an abundance of technologies spanning the 15.4 hectare (38 acre) Marina Bay Sands site.
---
A 360 degree experience unlike anything seen before.
---
Witness The Magic of Wonder Full
Awards And Acclamations
Best New South East Asian Tourist Attraction by ASEANTA (Association of Southeast Asian Nations Tourist Association)
Winner of PATA Gold Award for 'Contribution to Culture' (Pacific Asia Travel Association)
Best International Multimedia Show by ILDA (International Laser Display Association).

Wonder Full celebrates local Singaporean talent by showcasing and highlighting the best of Singaporean musicians across two generations. Laservision engaged Mr Iskandar Ismail, an internationally renowned Musician, Composer, Producer, Music Arranger, Director, Conductor and Orchestra Conductor to create an original sound score, while Mr Daryl Ang was selected as the Maestro and Conductor for this prestigious project.

A global team consisting of 100 specialists in the areas of architectural, design, creative, musical, engineering, technical and IT resources were tasked with creating this one-of-a-kind show. The magic of Wonder Full is controlled down to the millisecond by Laservision's Digital~Data Pump Series III via 20 Media Servers and over 50 kilometres of data cable and fibre optics.
Fountain
Elegant custom-designed musical fountain spanning the waterfront event plaza with 18 individually controlled fountains reaching up to 20 metres in height work in conjunction with independent tilt mechanisms to create a wide range of stunning liquid patterns. The fountains are illuminated by submerged high powered multi-coloured custom LED technology.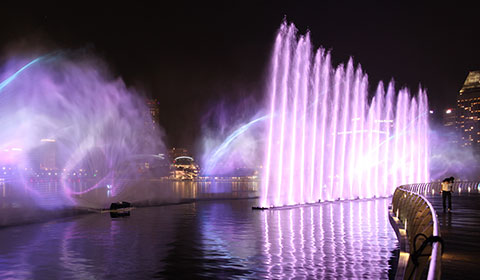 ---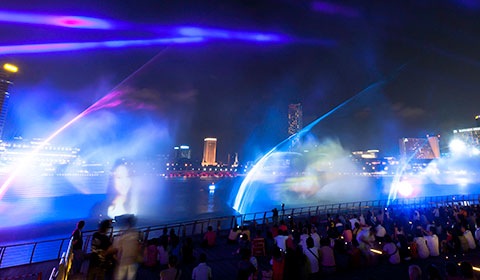 Screens and Projectors
Three enormous Water~Screens creating majestic liquid walls spanning about 2,000 square metres (1/2 an acre) and nine high powered High Definition Video Projectors are enclosed within customised floating barges.
---
Lights
Wonder Full showcases a grand total of half a million watts of light including: 30 high powered multi-coloured moving searchlights located on the waterfront Event Plaza, Skypark and ArtScience Museum Oculus; one billion foot candles of light arising from the Oculus of the ArtScience Museum into the heavens; six high powered Stella~Ray and Light~Ray Laser Systems producing over 300,000 milliwatts of laser energy capable of being seen for up to 55 kilometres outdoors; and over 250,000 energy efficient intelligent Light Emitting Diodes (LEDs).