Marina Bay Sands creates opportunities for many of our beneficiaries by inviting them to a wide array of activities on property, ranging from educational guided tours to exclusive activities and events. Off property, the integrated resort also extends its support to the community where its efforts are most needed.
The force behind our community outreach efforts comes from over 9,500 passionate Team Members who give time and resources to those in need. In 2016, more than 3,700 Marina Bay Sands Team Members contributed over 9,600 volunteering hours in numerous charity events.

Inspiring the Future
Sands for Singapore introduced a series of career workshops for underprivileged youth in 2016. The objective was to inspire the youth to overcome their limitations and expose them to the different career options available at an integrated resort. Through a series of tailored workshops, educational tours and thought-provoking conversations with its senior executives, the integrated resort inspired over 250 youth on their career journeys in 2016.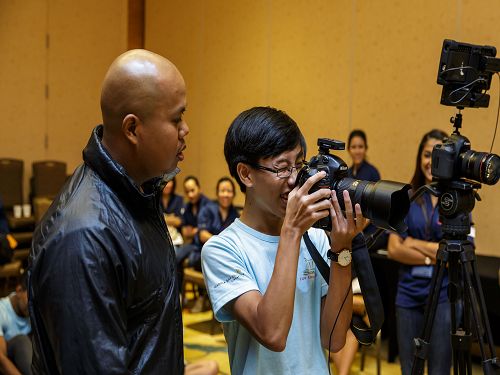 Beneficiaries Meet Marvel Stars
26 lucky beneficiaries from Association for Persons with Special Needs (APSN), Singapore Association for the Deaf (SADeaf) and Students Care Service had the exclusive opportunity to meet the cast and director of Captain America: Civil War during the blue carpet event at the Skating Rink on 21 April 2016. They fired cheeky questions at the stars on their lives as a superhero and presented them with handmade Captain America themed drawings. The talented beneficiaries created the drawings exclusively for the cast and director!
Las Vegas Sands Global Hygiene Kit Build with Clean the World
On 27 July 2016, Las Vegas Sands Global Hygiene Kit Build with Clean The World took place for the second year running. 40 teams from Marina Bay Sands helped pack 20,000 hygiene kits consisting of 10 items each. This was part of a larger initiative by Las Vegas Sands to pack 100,000 hygiene kits across four properties – Singapore, Macao, Pennsylvania and Las Vegas – from July to December in 2016. The kits, which comprise soap, shampoo, conditioner, lotion, razor, toothbrush, toothpaste, washcloth, bag and inspirational notecards, went to Children's International for beneficiaries in the Philippines who lack access to basic hygiene supplies.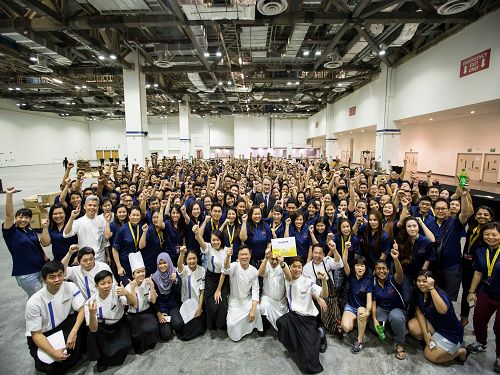 The Season of Giving
From 5 – 15 December 2016, over 480 Team Members came forward to donate their pre-loved, and even brand new clothes and bags for an internal collection drive. The clothes and bags were then sold at the Team Member Sale and Bazaar, with the sales proceeds going to Association for Persons with Special Needs (APSN). Unsold clothes and bags were donated to Singapore Council of Women's Organisations (SCWO). More than 340 Team Member volunteers contributed over 700 hours to ensure that the donation drive and bazaar ran smoothly.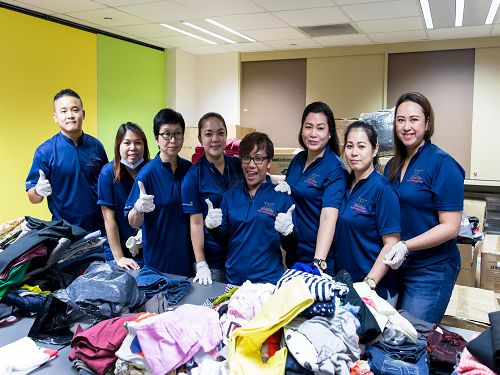 Bringing Festive Cheer to the Elderly
Marina Bay Sands' Team Members kicked off the Lunar New Year on a charitable note with a mass spring cleaning activity and festive celebration for over 230 senior citizens serviced by AWWA. 10 trainees from Association For Persons with Special Needs' Centre for Adults (CFA), a programme catered to adults with mild intellectual disability, also volunteered alongside over 320 Team Members to extend a helping hand to AWWA's elderly beneficiaries. The festivities continued with 60 elderly beneficiaries enjoying an afternoon of food and fun at Marina Bay Sands, where Team Member volunteers treated the beneficiaries to a range of performances – including an 80's dance number and a fascinating magic show!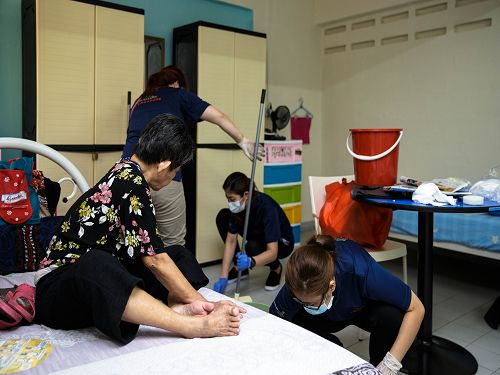 A Deaf Awareness Initiative on Mother's Day
As the rest of Singapore celebrated Mother's Day 2017, Sands for Singapore and Singapore Association for the Deaf (SADeaf) took the opportunity to show appreciation for a special group of mothers who are hard of hearing. SADeaf launched Mommy, Can You Hear Me?, a children's book written by Ms. Grace Phua who grew up with deaf parents. The book sheds light on her experience as a CODAS (child of deaf adults) and was launched with the support of Marina Bay Sands. 280 Team Member volunteers participated in the book launch, learnt simple sign language and contributed more than 840 hours to partner SADeaf beneficiaries to paint tote bags. The tote bags were then personally delivered to mothers at AWWA, Star Shelter, HCSA Community Services and Lion's Home for the Elders.